Pacific NW Scottish Highland Games & Clan Gathering
Scotland Comes To The Pacific Northwest!
July 22, 23, and 24, 2022
Enumclaw Expo Center
45224 – 284th Avenue SE
Enumclaw, Washington 98022
No Pets Allowed In The Enumclaw Expo Center
Always Room For Scottish/Celtic Vendors!
Previous year merchandise vendors will receive participation packets at their email of record around the 1st of April. It is previous year merchandise vendors responsibility to inform the SSHGA of address changes. Closing date for merchandise vendors is July 1, 2022. Late applications may be accepted at double the fee, space permitting.
New merchandise vendors will be considered (juried) on a case by case basis upon receipt of a letter of introduction which describes in words, photos, etc. your product(s) and how it fits into our Scottish theme event. Products that do not fit into our Scottish theme event will not be considered. The closing date to submit a letter of introduction for the 2022 event is June 1, 2022.
SSHGA
Merchandise Vendor Committee
PO Box 75685
Seattle, WA 98175-0685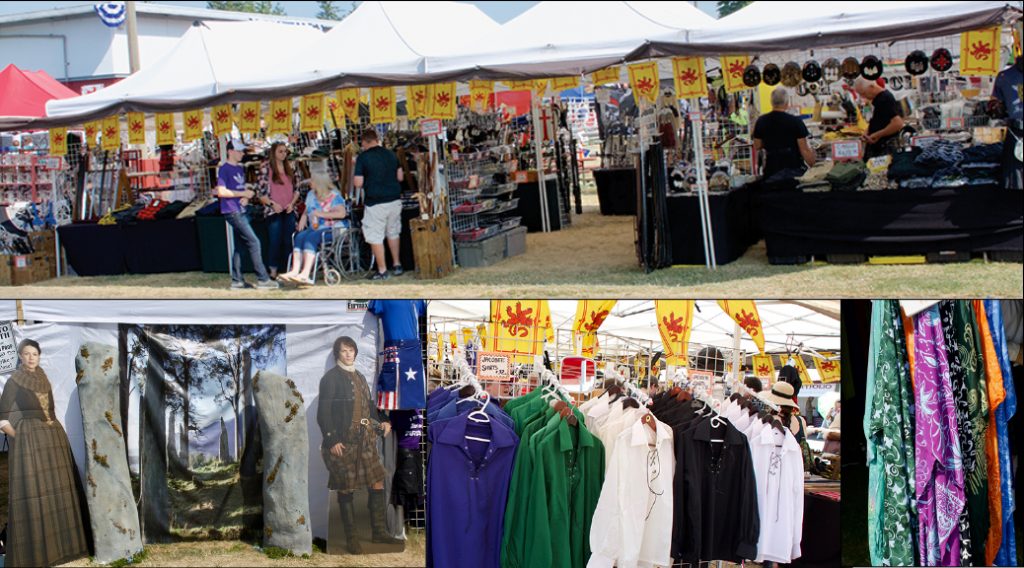 2019 Participating Merchandise Vendors
A & A Company
Age of Chivalry Argyll Collection
Bockemuehl Jewelers
B. Coole Designs
Buzz Kidder Originals
C & T Global Enterprises
C. H. Hutchinson Co
Caledonian Heart
Carbony Celtic Winds
Celtic Art Studio
Celtic Moonlighting
Clan Inebriated
Cloaked in Time
Crown Fellowship
Damsel in this Dress
Elfstone Jewelry
Eye Scry Designs
Featherlady Studio
Got Kilt
Granny Fi's Shortbread
Greenman Gifts
Highland Jewelers
History of Names
Holy Heck
Hurricane Hair Wrap
Kerr's Imports
Lyon Craft
Marjorie Dwiggins Hand Worked Leather
Mclarens Shortbread
Reannag Teine
Royal Publishing Inc
Scotsman Grooming
Scottish Country Shop
Scottish Sword & More
Steelcraft/Legends of Camelot
Tartan Covers
The British Pantry
The Card Cafe
The Celtic Image
The Village Artist
Touchstone Runes
Treasures From The Cairn
Wandering Angus Celtic Traders
Wolf Den Leather
Join Clan SSHGA Today! You'll Be Glad You Did!
Due to the  CoVid-19 pandemic and the logistics of sponsoring an international event the 2020 and 2021 PNW Scottish Highland Games and Clan Gathering were cancelled. We are continuing to solicit donations to help us defray our operating costs of the past two years which included but were not limited to internet, phone, etc. and our biggest expense multiple storerooms where the "Games" are stored. This journey has been a struggle but with your help we can navigate and survive these unprecedented times and go into the 2022 solvent and whole! YOU are appreciated. Thank you!