Pacific NW Scottish Highland Games & Clan Gathering
Scotland Comes To The Pacific Northwest!
July 26, 27, and 28, 2024
Enumclaw Expo Center
45224 – 284th Avenue SE
Enumclaw, Washington 98022
No Pets Allowed In The Enumclaw Expo Center
Our 2023 Featured Performers include — the traditional Scottish balladeers, Colin Grant-Adams, and Carl Peterson, the upbeat and lively Men of Worth, the three part harmonies of Golden Bough, and the dynamic and electrifying Tempest, and new this year Elias Alexander & Trad Band who weave together traditional music, and electronic production.
We invite you to visit the encampment of the Northwest's premier combat troupe, the Seattle Knights too!
2023 Featured Performers Schedule
Schedule applies to both Saturday and Sunday, July 22 and 23, 2023
TIME
NORTH STAGE
CENTER STAGE
SOUTH STAGE
GLEN OF THE CLANS
10:30AM
Colin Grant-Adams
Golden Bough
Elias Alexander Trad Band
The Seattle Knights
11:30AM
Carl Peterson
Men Of Worth
Tempest
The Seattle Knights
12:30PM
All Stages Closed For Opening Ceremonies
1:30PM
Colin Grant-Aams
Golden Bough
Elias Alexander Trad Band
The Seattle Knights
2:30PM
Carl Peterson
Men Of Worth
Tempest
The Seattle Knights
3:30PM
Colin Grant-Adams
Golden Bough
Elias Alexander Trad Band
The Seattle Knights
4:30PM
Carl Peterson
Men Of Worth
Tempest
The Seattle Knights
2023 Saturday Evening Ceilidh Schedule with our Featured Performers
Saturday Evening, July 22, 2023 Ceilidh Schedule
TIME
SOUTH STAGE
5:30 TO 5:45PM
Colin Grant-Adams
5:45 to 6:00PM
Carl Peterson
6:00 to 6:15PM
Golden Bough
6:15 to 6:30PM
Men of Worth
6:30 to 6:45PM
Elias Alexander Trad Band
6:45 to 7:00PM
Tempest
Elias Alexander: pipes, fiddle, whistles, guitar
Elias Alexander (he/him) is widely recognized as one of the finest exponents of traditional Scottish music in north America. Elias grew up in Ashland Oregon, where he cultivated deep roots in traditional music, studying bagpipes, fiddle, whistle, and guitar from a young age.
After relocating to Boston in 2013, he spent the later half of the 10s touring with numerous bands, including the Bywater Band, Soulsha, Seven Nations, MAC and Fàrsan, and playing some of the world's top Celtic festivals, including Celtic Connections (Glasgow, Scotland) and Celtic Colours (Cape Breton, NS).
Released in 2016, his debut album of acoustic music, Bywater, has remained a favorite in the American Celtic music scene, and continues to be a mainstay of folk and Celtic radio shows nationwide. His other albums include "Carry it On" by Soulsha, Farsan, by Farsan, and Perfectly Manufactured Reality by MAC.
Elias has performed and taught with many of the greats of Celtic music, including Alasdair Fraser, Carlos Nuñez, and Gillebrìde MacMillan (of Outlander fame), given lectures at Harvard and MIT, and taught at fiddle camps across the country.
He currently tours with legendary Scottish band Old Blind Dogs, Loud Weather (a project with fiddler Alasdair White of the Battlefield Band), and his electronic dance music project, Ramblxr. In addition to playing Scottish music Elias is also a songwriter and producer.
For more information visit ELIAS ALEXANDER
Be sure and join us Friday evening for Elias Alexander's RAMBLXR Show in the Ramping Lion Pub. It will be epic! Go to information about the Friday Evening Events that are free and open to the public!
Alex Sturbaum: guitar, accordion
Alex Sturbaum is a traditional musician based in Olympia, WA. Alex is a singer, songwriter, dance musician, and multi-instrumentalist, and performs across the country at festivals, contra dance weekends, and more. A versatile and engaging performer steeped in folk music from both sides of the Atlantic, they draw influences from Celtic, American, English, Canadian, and martime music to create something at once old and new. Alex's performances are always high energy and build an instant rapport with audiences.
Alex is best known for their powerhouse guitar and accordion playing, their sharp, traditional-sounding lyrics, and their enthusiasm and appetite for collaboration – the latter of which has led some to call them "one of the most get-sh*t done people in folk music". They tour regularly as a solo artist and as half of the duo Countercurrent with Brian Lindsay. They also teach, record, and produce projects such as The Vashon Sessions (a collaborative music project connecting musicians across the Pacific Northwest) and Raise the Rafters (an annual traditional singing weekend). They have performed on many recordings, and have released four solo albums: River Run Wide, Loomings, Atlantic Dreams, and Slash.
For more information visit ALEX STURBAUM
David Pender Lofgren: bodhran, percussion
David Pender Lofgren (he/him) is one of the Pacific Northwest's most sought-after contemporary Irish bodhran players. As a performer, his playing blends a reverence for tradition with a desire to explore modern applications of this remarkably versatile instrument. Recent collaborators include Gallowglass, Robert Sarazin Blake, Jocelyn Petit, Elias Alexander, Sub-Zero Glitter Fridge, and Hot Damn Scandal.o
It has been 43 years since the debut of the Rubick's cube, the release of the Pac-Man game, the election of Ronald Reagan and the 2nd installment in the Star Wars saga – "The Empire Strikes Back".
Another important event occurred in 1980 as well, the founding of Golden Bough, one of the premier West Coast Celtic groups.
Since 1980 Golden Bough has been delighting audiences with their unique renditions of the Celtic music of Ireland & Scotland. Besides their many years of touring, these modern day minstrels have recorded over 30 albums. Their latest release is clever innovation – a USB drive disguised as a cassette tape! It contains over 25 hours of music and videos.
With a dazzling array of acoustic instruments; Celtic harp, guitar, violin, viola, penny-whistle, octave-mandolin, accordion, and bodhran (a hand held Celtic drum), and a haunting vocal style, Golden Bough presents a program that leaves little room for audience members to lose interest.
The Celtic nations share a long history of culture and fine arts and their music often intertwines to create the powerfully emotional sound of what we now call Celtic music. Golden Bough was founded with the concept of combining this music with various folk styles, highlighting their own compositions. For four decades Golden Bough has been delighting audiences with their exceptional interpretations of the music of the Celtic nations and the uniqueness of their original compositions.
In the recording studio, as well as on stage, Golden Bough captures the essence and joy of traditional folk music and captivates audiences with the uniqueness of their original compositions. Wind and Wire Magazine had this to say, "There is a love of this music by the performers that is obvious. A great example of how to do something the right way when many are just doing it, period."
The music of Golden Bough is enjoyed by listeners of all ages. You'll be hard put to sit still once the fire of Celtic music is flamed by these fine entertainers. A splendid time is guaranteed for all!
For more information visit GOLDEN BOUGH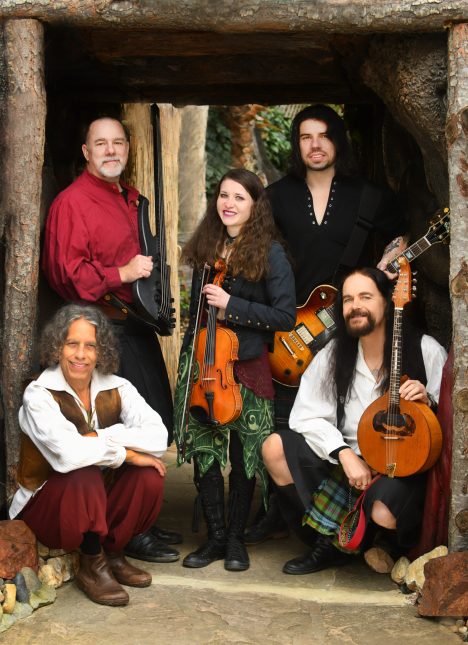 Celebrating 30 years of Celtic Rock!
Since forming in 1988, Tempest has delivered a globally-renowned hybrid of high-energy Folk Rock, fusing Irish reels, Scottish ballads, Norwegian influences and other world music elements. The last 30 plus years have seen the San Francisco Bay Area based act release eighteen critically acclaimed CDs and play more than 2,500 gigs. It's also enjoyed an evolving line-up that's enabled musicianship and creativity to progress in delightful ways with each new member.
Hailing from Oslo, Norway, founding member and lead singer/electric mandolinist, Lief Sorbye, is recognized as a driving force in the modern folk-rock movement. He started Tempest after years of touring and recording on the folk circuit.
San Francisco native fiddler Lee Corbie-Wells, comes to the band with a special passion for Celtic and Scandinavian music and Gaelic language traditions. A touring and performing child of a musical family, she plays fiery traditional fiddle tunes, and is also known to keep a bit of Blues and folk improvisation up her sleeve.
Nikolay Georgiev, studied modern rock guitar under Martin Goulding at the Guitar Institute of Technology in London, U.K. and classical guitar performance in his native Bulgaria. He also attended Musicians Institute in Hollywood, CA, while remaining active in a number of bands. Nikolay brings a fresh and global flavor to Tempest's brand of Rock-driven World Music.
The latest addition to the band is the seasoned Bass Player Hugh Caley. He is a Michigan transplant, who brings energy, genuine enthusiasm and a damn fine kilt to this frisky iteration of Celtic and roots music.
Cuban-born drummer Adolfo Lazo, an original Tempest member, thickens the band's sound with inventive rhythms, and rock-steady drumming.
Tempest is regularly featured at prestigious festivals such as The Philadelphia Folk Festival, and has also appeared at Denmark's Skagen Festival, Britain's Cropredy Festival and The Winnipeg Folk Festival in Canada. The band is a mainstay at countless American Celtic festivals, as well.
Tempest is busting out of a two years' pandemic-enforced hiatus from extensive touring with a new, powerful release. "Going Home" is the band's first studio album of new material in four years, and one of their best to date!
For more information visit TEMPEST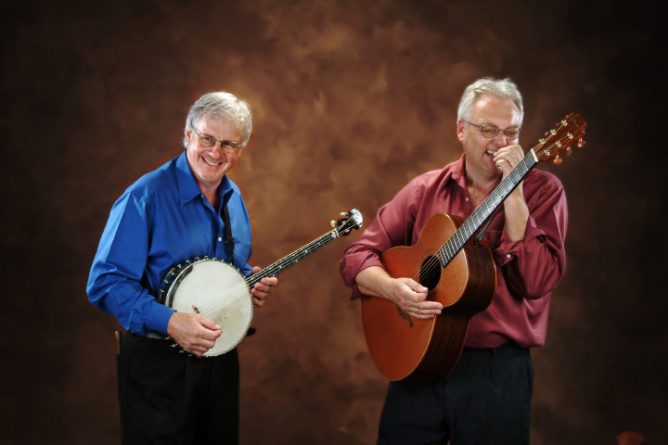 The folk-music duo, Men of Worth, was formed by James Keigher (Ireland) and Donnie Macdonald (Scotland) in 1986. Both exiles, it was through the Celtic music scene in Southern California that James and Donnie first met, and within a couple of years a partnership developed that was simultaneously serious and fun.
Geographical changes now find James and Donnie living in Southern Oregon and Northern California respectively. Whilst remaining true to their Gaelic roots, Men of Worth have successfully evolved as entertainers. Success breeds success, and a natural progression toward education and travel has sealed an exciting and pioneering era for the versatile duo.
Together Men of Worth blend their voices with harmony and support their collection of songs with their varied selection of instruments. They have a very simple approach to their presentation, and in keeping with tradition, remain true to the music and story. Their show is a unique combination of humor, exciting tunes, and soulful, heartfelt ballads.
Men of Worth are an international act, and have earned much respect and success in over thirty years of touring together. Cultural presentations in Schools have received rave reviews by students and teachers alike. Performing concerts and festivals, with twelve albums to their credit, Men of Worth continue the very tradition from which they've evolved.
Donnie Macdonald comes from the Isle of Lewis, one of the Hebridean Islands off the west coast of Scotland. Writing tunes and original songs in both his first language, Gaelic and in English, Donnie presents the music from his native Scotland with passion and humour. Donnie performs on vocals, octave mandolin, tenor banjo, concertina, and bodhran.
James Keigher comes from Co. Mayo in the west of Ireland. He is a singer, writer and collector of traditional and contemporary folk music. James was raised in Charlestown, a small rural community setting, steeped in traditional music and stories. He performs on vocals, guitar, mando-cello, and bodhran.
For more information visit Men Of Worth 
Born in Greenock, Scotland, on the banks of the River Clyde, Carl Peterson was raised where a great shipbuilding industry flourished for hundreds of years. In the 1800's seafaring men from other nations also joined the ranks in the Clyde Valley shipyards. One of these adventurers, a Swedish sailor, married a highland lass in Port Glasgow – they were Carl's great-grandparents. Thus, he was born four generations hence, a Nordic Scot, with Swedes on one side and Highlanders on the other.
As Carl grew up he learned folk music and songs during ceilidhs at home, and also from listening to Burl Ives, The Kingston Trio, The Weavers, The Corries, Tommy Makem and the Clancy Brothers, to name but a few. He was blessed to eventually meet and perform with some of these entertainers. 
Carl Peterson's musical career began in Canada, where he performed from Newfoundland on the East Coast to British Columbia in the West, including Edmonton's Jubilee Auditorium, as well as in Montreal's Place Des Art, where the Montreal Gazette described him as "a folksinger with a most pleasing voice." He also appeared in Canadian television shows: Edmonton's "Tommy Banks Show" and St John's "All Around the Circle". 
Carl then moved on to the United States, performing at Scottish and Irish festivals and concerts throughout the country. After a sold-out 1994 debut, he remained with Columbia Artists' Community Concerts touring roster for 6 years. Carl performed an average of 60 a concerts a year, traveling to and performing in 48 states (the exceptions being Alaska and Rhode Island).
Over the past 4-5 years Carl has cut back on his performing schedule to focus more on writing. His first book was "Now's The Day And Now's Hour" with it's companion double CD, "Scotland Remembers The Alamo". The book and CD illustrates the impact of Scotland on Texas and specifically the defenders of the Alamo. It also documents the ballads and songs written about those events whose music came from Scottish and Irish tunes.
Carl recently released his 2nd book, a fantasy book titled "Ewan Colin Coupar and a Touch of the Fae". He is currently working on the sequel.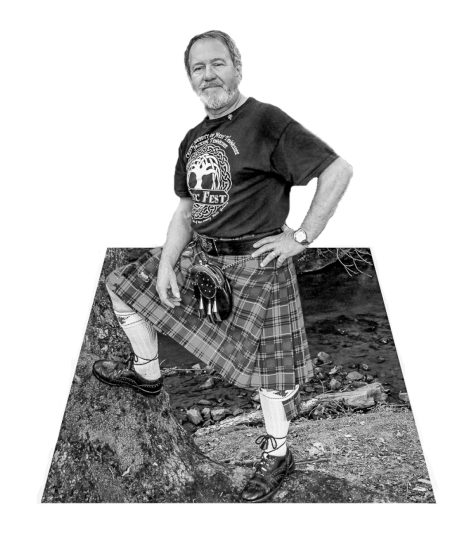 Colin Grant-Adams is a recording artist, Scottish/Celtic folksinger and guitarist, originally from Oban, Scotland. Colin presents a program of traditional, contemporary, and nationally-acclaimed original folksongs about Scotland's rugged landscape ("These are My Mountains"), its turbulent history, ("Ye Jacobites By Name"), and the Scottish immigrants' influence on American folk and Bluegrass music, with "Scottish American" and "Kentucky in the Spring Time".
Audiences have enjoyed Colin's performances in the famous folk clubs of Great Britain, Norway, Sweden, Europe, and across the United States. Grant-Adams brings new life to the traditional tunes that are delivered with a touch of humor, the telling of mystical stories, and even a few sing-along songs that leave crowds asking for more.
Weaving tales of Scotland's turbulent history and haunting beauty with his remarkable ballads, Grant-Adams takes you on a journey across the seas to Scotland and the Islands. Colin captivates the audience's heart, mind, and soul.
His repertoire ranges from well-known classics, "Skye Boat Song", "Will You Go Lassie Go", and "Loch Lomond", to contemporary and traditional music of Scotland and Ireland, to the Bluegrass music of Kentucky, in addition to his acclaimed original compositions, "Where the Rhododendrons Grow", "Blood in the Ground", "Scottish American", and "The Lone Piper".
Grant-Adams has recorded nine CDs, "Scotland–Land of my Father", "Scottish American", "Traditional and Original Songs of Scotland", "This Land Called Scotland", "Colin Grant-Adams and His Guitar", "A Toast To Scotland", "Rubies and Diamonds", "Songs for the Roads", and "Making Memories."
Grant-Adams has appeared on numerous TV and radio shows, and concerts all over the United States, plus at the acclaimed Carnegie Hall in New York City.
For more information visit Colin Grant-Adams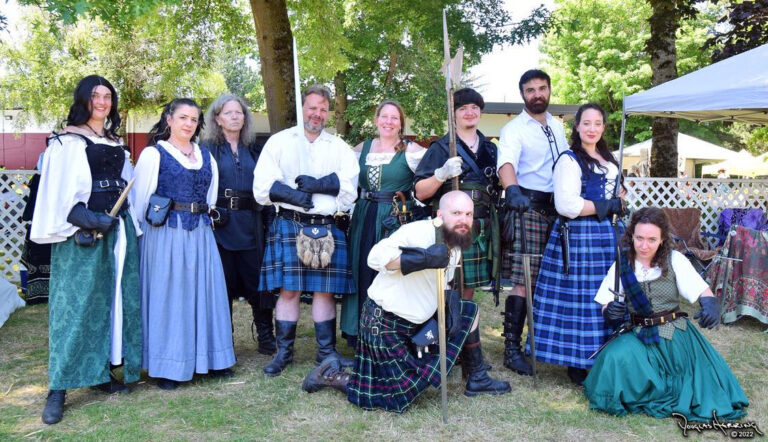 The Cutting Edge of Entertainment!
The Seattle Knights, the Northwest's premier sword fighting and jousting organization, is a theatrical troupe whose specialty is Medieval Fantasy. Their dedication to the principal of "Education through Entertainment" has made the Seattle Knights the top stage combat troupe in the country. The actor-combatants perform choreographed combat using real armor and weapons. Men and women perform on equal footing, taking up spears, pole weapons, war hammers, axes, daggers, and, of course, swords of almost every variety. For all the ferocity and excitement, it's all good, clean fun. The Seattle Knights proudly maintain the best safety record in the industry, and have performed for schools, businesses, private functions, parades, charities, festivals, and renaissance fairs around the United States.
For the Pacific Northwest Scottish Highland Games & Clan Gathering, the Seattle Knights swap armor and horses for kilts and comedy, displaying their skills with rapier and repartee throughout the day. Join us for music, mirth, and merry mayhem.
For more information visit THE SEATTLE KNIGHTS
Join Clan SSHGA Today! You'll Be Glad You Did!
As a self-supporting, non-profit, all-volunteer organization funding our programs can be difficult. With no corporate backing behind us, and the escalation of expenses over the last few years, our efforts to meet our budget requirements and explore additions to our lineup, has been stymied.
Our journey has been a struggle but with your donation we can navigate and survive these unprecedented times and go into the future solvent and whole! YOU are appreciated.
Thank you for donating to help us continue bringing Scotland to the Pacific Northwest!