From the opening skirl of the pipes for Friday evenings Don MacRae Pub Piping Special Hornpipe and Jig Competition to the closing echos of Banshie late Sunday afternoon, The Rampant Lion Pub will be jumping!
We welcome you to join us this year for the newly expanded line up on stage at the outdoor Rampant Lion Pub! Beginning Friday night, and continuing all day through out Saturday and Sunday, we'll be showcasing three bands including BOWI Band, Banshie, and Celt Check. These colorful bands will captivate and engage you with their retinue of lively pub songs guaranteed to get your toes tapping! The best darn party in Washington State the 4th weekend in July! Can't wait to see you there!
BOWI BAND | BANSHIE | CELT CHECK!
2019 Rampant Lion Pub Entertainment Schedule
FRIDAY July 26, 2019
6:30PM
Donald MacRae Pub Piping Competition
8:00PM
BOWI Band Performs
SATURDAY July 27, 2019
NOON
Banshie
1:00 PM
Celt Check
2:00 PM
Banshie
3:00 PM
Celt Check
4:00 PM
Banshie
8:00 PM
BOWI Band Performs
SUNDAY
NOON
Banshie
1:00 PM
Celt Check
2:00 PM
Banshie
3:00 PM
Celt Check
4:00 PM
Banshie
BOWI BAND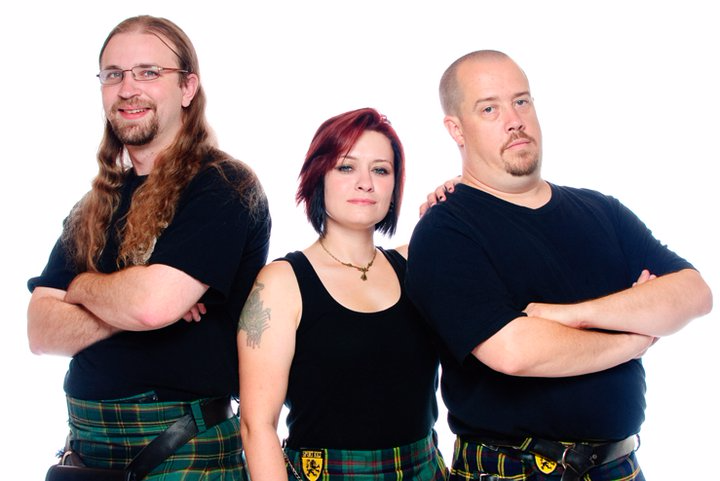 Kickin Celtic Music!!! For years, Seattle-based BOWI has been entertaining audiences with a blend of traditional Celtic music and unique energy. The BOWI sound encompasses a wide range of music including driving Jigs and Reels, exciting vocals, and beautiful ballads. An incredibly flexible and adaptive group, BOWI has performed at everything from Pubs and local faires, to private parties and weddings. Acoustic or "Plugged in", BOWI has never failed to get the hands clapping and feet stomping.
Influenced heavily by the likes of bands like Solas, the Old Blind Dogs, and the Pogues, the group was drawn to the idea of talking traditional music, and adding a slightly contemporary edge to it. Aside from being just fun to do, the intention was to also bring the old to the new and introduce traditional content to a new generation.
BANSHIE
Denise O'Falin – Guitar and Vocals
Marcie Forrest – Flute and Vocals
Denise O'Falin grew up in a musical family. As a young adult she studied voice at Evergreen State College as well as private coaching. Denise gained experience singing in various rock bands. In the year 2000 she embraced her love for folk music as a solo artist and naturally started to honor her Irish heritage in her music and has been dedicated to traditional and modern Celtic music ever since. For many years Denise has enjoyed performing at Festivals and Highland Games all over the South sound.
Marcie Forrest is an accomplished and versatile singer and flautist. Marcie studied classical flute in college and has had several years of training as a vocalist while she was living abroad. Having grown up on classic and progressive rock, she later became enamored with Renaissance, Baroque and Celtic music. Marcie has had the privilege to perform with many wonderful and talented musicians while living abroad on TV, radio, and at various high profile festivals both in the US and abroad.
Together as Banshie, Denise and Marcie mesh their unique talents together for a truly fun and memorable Celtic musical experience!
CELT CHECK!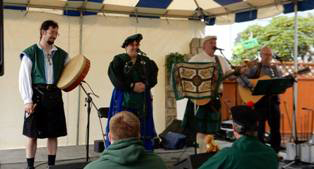 Bringing Celtic Harmonies to the Pacific Northwest.
We are a dynamic quartet and family band, with father Gareth Davis, daughter Darcy Davis, significant other Ari Stolar, and long-time family friend Finn McFaire.
Gareth plays 6-string and 12-string guitars and vocals, and has been performing music in various venues for most of his life. Darcy plays recorder and vocals and has been singing and performing for over 25 years. Ari is our percussionist playing bodhran and cajon who made his stage debut in the summer of 2015. Finn McFaire plays 12-string guitar, doumbek, tin whistle, and vocals, and has also been performing music in various professional venues for most of his life.
We have extensive lists of Celtic songs from Scotland, Ireland, and Wales varying from authentic Celtic ballads to toe-tapping tavern pieces, shanties of the sea to songs of the heart. Slow-and-sweet to rock-the-bar, Celt Check! does it all!